CNN proudly proclaims: Climate groups threaten lawsuit to force Shell to ditch oil  Excerpts in italics with my bolds.
The groups have accused Shell of "deliberately obstructing" efforts to keep global warming well below 2 degrees Celsius, the key goal of the Paris agreement. Pressure on companies has been building since the UN warned last year that the world has only 12 years to avert a climate disaster.
"The company has no concrete plans to align its business strategy with the commitments contained in the agreement," Joris Thijssen, the director of Greenpeace Netherlands, said in a statement.
"Shell spends billions on oil and gas exploration each year, with current plans to invest just 5 percent of its budget in sustainable energy and 95 percent in exploiting fossil fuels," the groups said.
Climate Liability News has the story Shell Sued in the Netherlands for Insufficient Action On Climate Change.  Excerpts in italics with my bolds.
Seven environmental and human rights organizations in the Netherlands have filed suit against Royal Dutch Shell for failing to align its business model with the goals of the Paris Climate Agreement.
The suit, which is the first to directly challenge an oil company's business model, was filed Friday in The Hague by Friends of the Earth Netherlands/ Milieudefensie, Greenpeace Netherlands, five other organizations and more than 17,000 Dutch citizens.
The plaintiffs are not seeking financial compensation, but are asking Shell to adjust its business model in order to keep global temperature rise below 1.5 degrees Celsius, as recommended by the United Nations Intergovernmental Panel on Climate Change (IPCC). They allege that by following a business model that it knows will not reach these goals, Shell is violating a Dutch law prohibiting "unlawful endangerment" and is violating human rights by taking insufficient action against climate change.
"If successful, the uniqueness of the case would be that Shell – as one of the largest multinational corporations in the world – would be legally obligated to change its business operations," said Milieudefensie attorney Roger Cox, who also represented plaintiffs in the landmark Urgenda suit.
Urgenda was the first case in which a court ordered a government to reduce its emissions and the first time a court ruled that not taking sufficient action on climate change is a human rights violation.
Plaintiffs allege Shell's current business model threatens human rights because the oil giant is knowingly undermining the world's chances to keep warming below 1.5 degrees Celsius. They maintain that rather than guarantee emission reductions, Shell's current plan would contribute to a much larger global temperature increase.
Shell did not immediately respond to a request for comment, but in a Dec. 2018 press release said it "aims to reduce the net carbon footprint of its energy products by around half by 2050, and by around 20% by 2035, in step with society's drive to meet the goals of the Paris Agreement."
Plaintiffs maintain that a reduction of the company's carbon footprint is not the same as a reduction in total greenhouse gas emissions because the carbon footprint involves a relative reduction in carbon emissions per unit of energy produced for the market, not an absolute reduction. Shell could reach its goals by producing as many units of renewable energy as it does oil and gas and could therefore reduce its carbon intensity by half without ever having to reduce its production or trade of fossil fuels.
By using this formula, plaintiffs contend that Shell – which has announced plans to link executive pay to the targets – could reach its stated goals without reducing its carbon emissions.
They say even if Shell's goals were specific to emission reductions, the company's target of a 50 percent reduction by 2050 still falls short of the IPCC recommendation that carbon emissions reach net zero by mid-century.
If successful, the lawsuit will be the first in which a company is ordered to reduce emissions.
The suit should come as no surprise to Shell. As required by the Dutch legal system, the defendant organizations sent the company a liability letter last year, demanding it cut back on its oil and gas production and align its business strategy with the goals of the Paris Climate Agreement. Shell rejected those demands, saying it "strongly supports" the goals of the Paris Agreement and pointing to the company's Sky scenario, as "a technically possible but challenging pathway" toward achieving those goals. The groups, which encouraged Dutch citizens to sign on to the suit, announced in February they intended to sue the oil giant.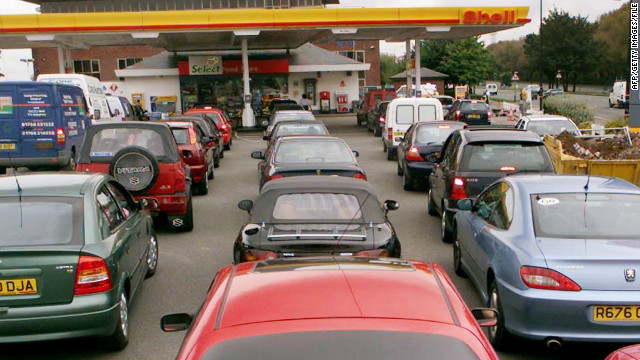 According to the Carbon Majors report, which was compiled and released in 2017 by the Climate Accountability Institute, Shell ranked sixth in the world in cumulative greenhouse gas emissions between 1854 and 2010.
Plaintiffs maintain it is still possible to limit global warming to less than 1.5 degrees Celsius, but doing so will require immediate large-scale changes, including a transition to renewable energy and drastic emission reductions by Shell and other carbon polluters.
"We also expect that this [case] would have an effect on other fossil fuel companies, raising the pressure on them to change," Cox also said that unlike previous cases which sought financial compensation for the effects of climate change, this one involves asking the judge to order Shell to ensure its activities have zero percent carbon dioxide emissions by 2050.
Methinks these folks should beware their wishes coming true:

See Also  Going Dutch: How Not to Cut Emissions